6 Lead
Lead (Pb) is one of the most common chemicals of concern at contaminated sites.  Lead is ranked #2 on the 2017 Agency for Toxic Substances and Disease Registry (ATSDR) substance priority list (ATSDR 2017). There has been great interest in incorporating lead bioavailability estimates in human health risk assessments. A large amount of research and development of methods has produced tools and procedures to predict bioavailability of lead in soil and solid wastes. Often the risk driver for lead is soil ingestion.   This section describes:
the natural occurrence and contaminant sources of lead in soil
important fate and transport processed that affect bioavailability
toxicology and exposure
methods used to measure bioavailability and

bioaccessibility

considerations for site-specific bioavailability assessments
an overview of case studies performed to estimate lead bioavailability
application of bioavailability to evaluate in situ remediation using soil amendments
Lead is a naturally occurring transition metal and a common trace element in many soils, including those derived from both bedrock and unconsolidated geologic materials. Natural background sources of lead in soil are predominantly associated with parent materials containing feldspar minerals (Reimann et al. 2011). Background levels of Pb in soil are highly variable and depend greatly on the parent material. As soils undergo weathering and primary mineral dissolution, with rates and extents primarily dependent on climatic factors and soil pH (White and Brantley 1995), lead becomes sequestered within the soil matrix through various reactions with soil organic matter (Strawn and Sparks 2000), secondary aluminosilicate clay minerals (Saha, Taniguchi, and Sakarai 2001), or reactive solid-phase oxides of iron and manganese (McKenzie 1980). A recent U.S. Geological Survey (USGS) study of background soil lead concentrations in the conterminous United States reports the median and 95th percentile in the 0- to 5-centimeter depth as 18.1 mg/kg and 44.5 mg/kg, respectively (USGS 2014); the study results are shown in Figure 6-1.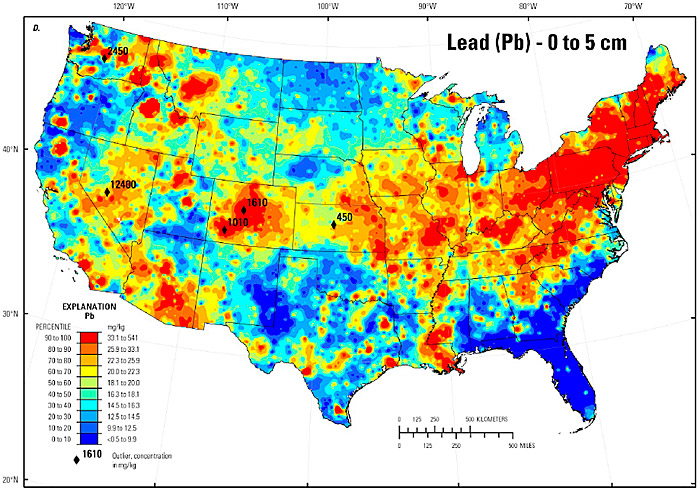 Figure 6‑1. Lead distribution in surface soil of the conterminous United States.
Source: (USGS 2014).