11.12 Silver Bow Creek/Butte Area Superfund Site, Butte, Montana, Butte Priority Soils Operable Unit
Contact: Lynn Woodbury
Organization: CDM Smith
Email: [email protected]
11.12.1 Site Description and Conceptual Site Model
Historically, Butte, Montana has been an important mining, milling, and smelting district. Gold was first discovered near Butte in 1864. More than 100 years of mining have resulted in the development of over 500 mines, 120 major waste rock dumps, 3,000 miles of underground workings, and the Berkeley Pit with its ancillary tailings ponds, waste dumps, and acid leach pads. Operation of 12 silver mills and 15 copper and zinc concentrators/smelters resulted in the production of a variety of smelter wastes and tailings.
The Silver Bow Creek/Butte Area Superfund Site, which includes the Butte Priority Soils Operable Unit (BPSOU), represents one of four contiguous Superfund sites in the upper Clark Fork River Basin. These sites extend 140 miles from the headwaters of Silver Bow Creek (north of Butte) to the Milltown Reservoir near Missoula, Montana.
The Silver Bow Creek/Butte area site lies immediately west of the continental divide in southwestern Montana, at the easternmost extent of the upper Clark Fork River drainage. The site encompasses approximately 85 square miles, including the entire length of Silver Bow Creek and associated land contamination from Butte westward approximately 25 miles to the Warm Springs Ponds near Anaconda. The site incorporates several square miles of land area within the city of Butte, Montana. The BPSOU lies within the Butte portion of the Silver Bow Creek/Butte Area site, encompassing the town of Walkerville, the part of Butte north of Silver Bow Creek and west of the Berkeley Pit, and a section of land that extends south from Silver Bow Creek to Timber Butte (Figure 11-13). USEPA is the lead agency and the Montana Department of Environmental Quality (DEQ) is the support agency for the BPSOU.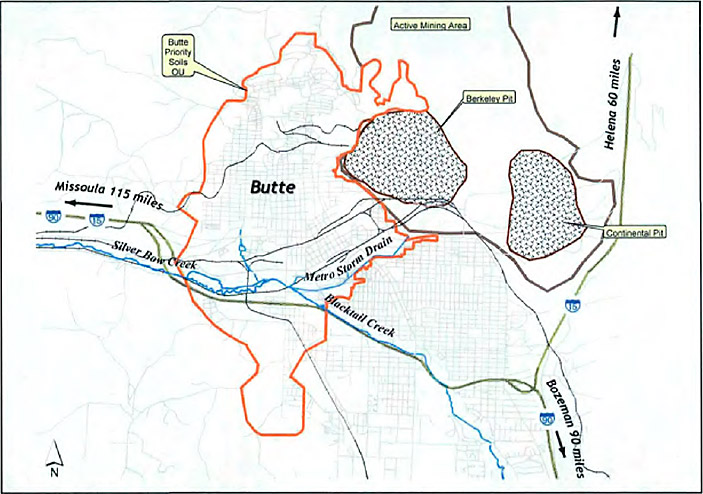 Figure 11‑13. BPSOU site map.
11.12.2 Soil Type
11.12.3 Source of Lead
11.12.4 Lead on the Site
11.12.5 Land Use/Exposure Scenarios
11.12.6 1994 Baseline HHRA for Lead
11.12.7 Methodology Used for Evaluating Lead Bioavailability
The site-specific lead bioavailability was investigated using both in vivo analyses and in vitro analyses.
11.12.7.1 In Vivo Analysis
11.12.7.2 In Vitro Analysis
11.12.7.3 Calculated Bioavailability of Lead in Soils
11.12.7.4 Application of Bioavailability to Risk Assessment
11.12.8 2001 Walkerville HHRA
11.12.9 How Did Bioavailability Results Affect Site Decisions?
11.12.10 Regulatory, Community, and Cost Considerations